Ed Gunderson's Alleweder Velomobile
Ride Notes


Dec. 19 2009 to October 14 2010

Stripes on tires are very bright reflectors. Need to learn how to easily get in and out, tight fit. Short ride 6 miles Dec. 23, to store and out on country roads, seat is comfortable, very easy to store bags of groceries along side seat. 32 deg. F and foggy but very warm in the velo. First ride in significant rain 5 miles Dec. 29, stayed dry and comfortable.
Thirty mile ride to Cottage Grove Oregon Jan. 5 via I-5 shoulder and Row River, Sears Road. light rain little wind 15-16 mph to C.G. 18-20 mph on return, dry, warm and comfortable. Flat front tire due to wire from blown apart truck tire debris, may need to rig a tire scraper. Gears seem low enough for steeper hills, no knee pain. Visited with Taylor at Velocity Velos. Might want to add head rest. Arm shoulder contact with arm rests is not bothersome. Absolutely no turbulance effect from passing trucks, unlike bicycle. Entry and exit is becoming more natural. Five5 plus mile night time ride Jan. 7, 45 deg. F., light intermittent rain, on rural Creswell area roads. Oncoming motor vehicle headlights are blinding on a two lane road, much worse than on upright bicycle. Probably because eyes are near the level of headlights. Taylor from Velocity Velos came by for the first? South Lane County Velomobile Gathering Jan 31 Photos . I rode a short distance over the river to Sears Road with Taylor and note that his vehicle is very quiet even with the electric assist. I also noted the roominess in his vehicle.
Early March, first ride in a cold heavy rain down hill at about 30 mph I should have had a ski mask since the drops were rather biting on the skin. I also had the first attempt to ride up a steep gravel forest road, not enough traction, I had to get out and push the velo up the hill. I was also very appreciative of the shocks when coasting down that rough road but wish I had stronger brakes.
During April I experienced light hail and was reminded to carry a ski mask and was thankful for the cover. April was also my first experience with gusty winds 15-20 kts, little discernable effect from side winds and I could not notice any extra effort riding into those winds although I was aware on my face that the winds were significant.
May weather made me thankful for weather protection and aerodynamic advantage since it was cold and stormy. I was able to ride to Eugene, 15 miles, in only 20 minutes longer than driving. On the 17th May, Norwegian Constitution Day, I decorated the velo and rode 20+ miles to the annual celebration at the Sons of Norway Sonja Lodge in Eugene.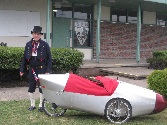 The Left Coast Velomobile Gathering was very enjoyable and informative, so much creativity and innovation. All the positive comments about the compression rivets reinforced my decision to make the extra effort. The most practical velo I saw was the Aurora with ease of entry, lots of stowage and weather protection. During a group ride through Downtown Portland I realized that to most people we are "URO's" , "unidentified rolling objects".
The June Rose Festival Parade in Portland was my first opportunity to ride with the cover off and in warm 80 deg. F weather. Strange to see my knees coming up and down at me and a surprise to learn how well ventilated the Alleweder is. I will need to paint the dash flat back. Great reception to the velos in the parade, some announcers commented that "they are the future". I reminded some bystanders that "No Oil Was Spilled For Us". I rode my bicycle in the same winds as the Alleweder one day, 15+ kts, riding the bike was like pushing a wall, in the velo I could not notice the wind except on my face.
In July I installed a sheepskin over the seat foam to cure "sticky back" it does the job wicking moisture away and gives a little more padding. During August 95+ degree weather I found the velo protects my legs from sun burn and there is adequate cooling. Riding up gravel roads is a challenge due to low traction on the rear wheel installing 155mm Odyssey cranks with 45 tooth chainring made power delivery smoother and less slippage but downhill on gravel is exciting due to fish tailing. The 155 mm cranks allow me to ride with my size 46 birkenstocks but I still prefer the clips for long rides.
Finally in October I finished installing and wiring the head light and tail light. I found a 6 volt Basta Steady LED tail light and placed a micro toggle switch on the Nite Hawk battery case. Photos in the photo page. One again I greatly appreciate the comfort riding during 40 degree fall mornings.
Aug. 2011 I accompanied the ROAM velomobile riders on the trip across America for the first days of the event. Most of the European riders had Camelbak hydration packs. Unfortunately I did not. While riding towards the first overnight stop I became seriously dehydrated, I rehydrated but slept the entire evening and missed the activities. The next day I was still weak and needed to spend an extra night in a motel on my return to Portland, I also developed a viral infection on the roof of my mouth. Not a single rider with a Camelbak suffered dehydration. The cost of no Camebak, $25 doctor co-pay, $15 medication, $70 motel, three sick days, pain. I now have a Camelbak which I used for the first time yesterday when I pedaled over the mountain to the Blackberry bRamble Bike Celebration in Eugene taking a drink at every mile marker, so easy to use, even down hill at high speeds. Why did I not have one years ago? Maybe another example of "You can lead a man to knowledge but can't make him think". This was my first dehydration instance in over 50 years of long distance bicycle riding, but on the bicycle due to rear, neck, and wrist pain I stopped often and drank when stopped. In the velo I had water but did not stop and forgot to drink, too comfortable.
October, changed the seat cover from a heavy sheep skin to a lighter one from Ikea. The sheep skin prevents damage to the foam when sliding in it also prevent heat rash and is warmer in winter.
November, A mechanical, self activated braking system for my Blue Sky bicycle trailer is finally finished. When carrying 150 pounds of surfing and camping gear, or other material, it was difficult to stop on descents. With the single rear wheel velomobile side thrust from the trailer was dangerous. Sturmey Archer drum brakes were incorporated on a custom axel.